Many of us are guilty of breaking wedding etiquette rules, like using a phone during the reception or drinking too much. However, some rules are a major no-no. The most commonly known faux pas is wearing white to another woman's wedding, since it steals attention away from the bride. After spending money on the white gown of your dreams, you don't want someone else to breeze in and copycat the look on the most important day of your life.
Still, some people can't resist being the center of attention and don't care if everyone else stares at or judges them. Here are the most inappropriate celeb wedding guest dresses of all time – gawk away!
1. Paris Hilton's thigh-high slit at Britney Spears' wedding
Hilton and Spears used to be BFFs, so it makes sense that Britney would invite her bestie to the 2022 wedding to Sam Ashgari, whom she is now divorced from. Paris Hilton decided to wear a glitter dress with a massive thigh-high slit not just because of how sexy it was, but because black dresses are considered bad luck at a wedding and are traditionally associated with funerals. Brit already had to deal with enough trauma in her life – should she really have to deal with something else that's stressful on her big day?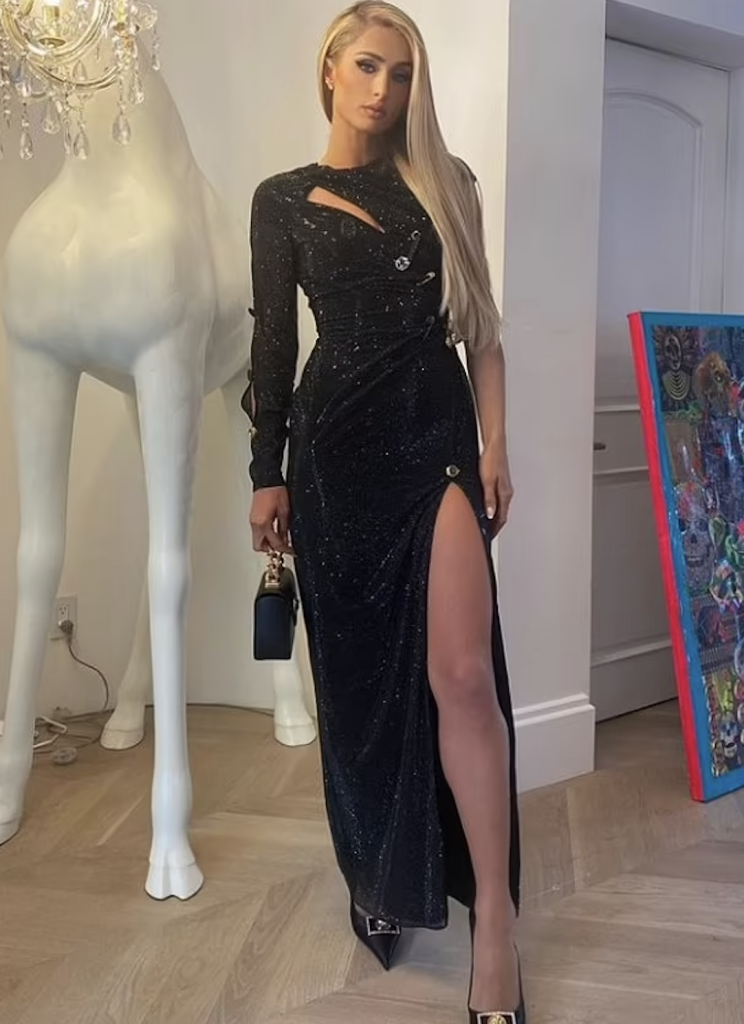 2. Sophie Turner wore a blazer dress to her co-stars' nuptials
We've seen Sophie Turner in tons of elegant outfits on various red-carpet occasions, but apparently, Kit Harrington and Rose Leslie's wedding wasn't worth putting in the effort for some formal attire. Turner wore a shockingly red blazer mini-dress and thigh-high black boots. The dress was very short and garish, making it a more appropriate look for a nightclub than a wedding. Even Turner admitted that she would always regret this look.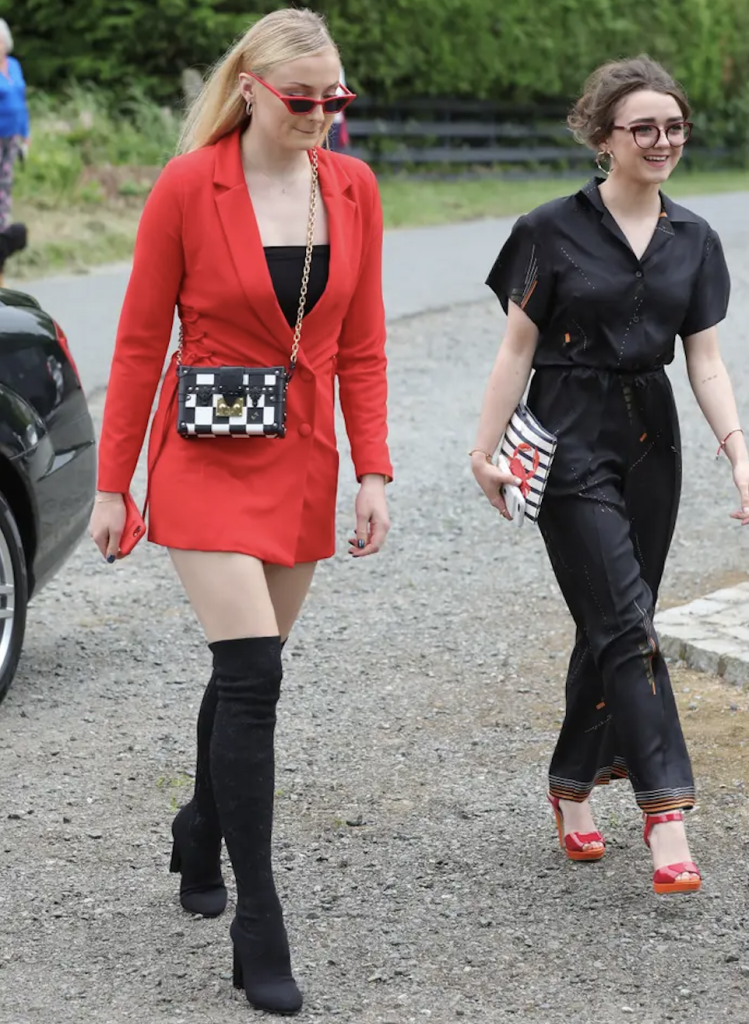 3. Taylor Swift dressed like the bride at Margaret Qualley's wedding
At Margaret Qualley and Jack Antonoff's 2023 wedding, the dress code was hipster chic. The bridge herself wore ballet flats. However, even though the dress code was more casual than usual, Taylor Swift wore a bridal-wear-inspired white dress with a lace corset. She looked more like the bride than the bride herself, and social media had a field day. Even though the dress was technically "soft blue," it did look rather white in pictures, leading to the misunderstanding.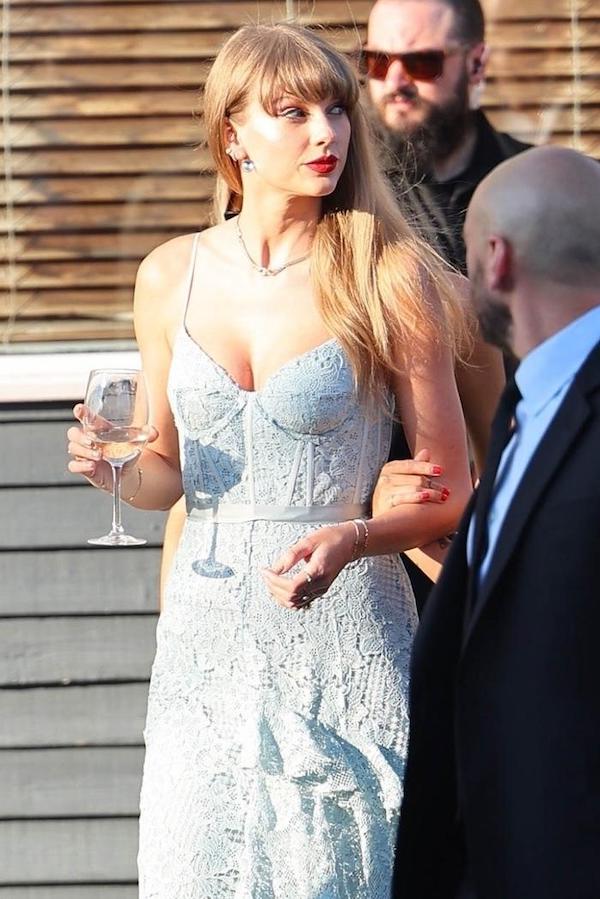 4. Victoria wore a funeral-inspired outfit to Harry and Meghan's wedding
As if Harry and Meghan didn't have to deal with enough controversy throughout their relationship in 2018, Victoria Beckham's outfit looked more appropriate for mourning than celebrating. We know this fashionista loves donning dark colors, and it turns out that this dress actually belonged to her own fashion line. However, perhaps there may have been a better time (i.e., not a royal wedding) to self-promote her line.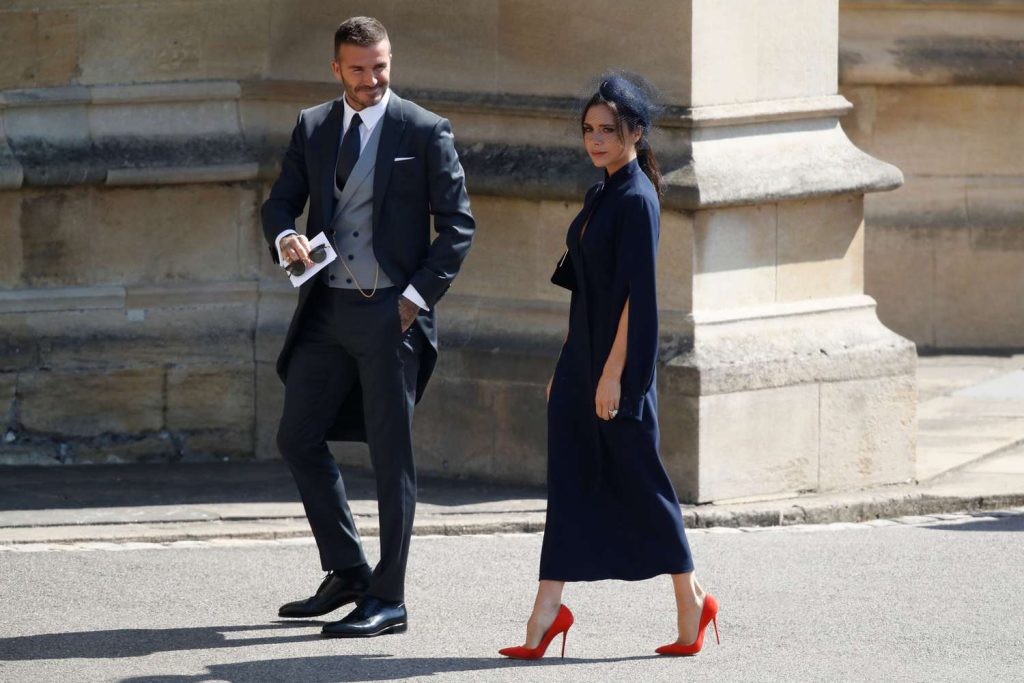 5. Adele wore haute couture when Anthony Davis got married
Talk about upstaging the bride! When basketball player Anthony Davis married Marlen Polanco in 2021, Adele rocked a custom-made puff-sleeved Schiaparelli Haute Couture gown with massive pearl earrings. The look was decidedly extravagant, and Schiaparelli's garments were made with the intention of showing off. While the bride wore a modest strapless gown, many accused Adele of overt exhibitionism for choosing this dress. Outshining the bride is not cool, Adele.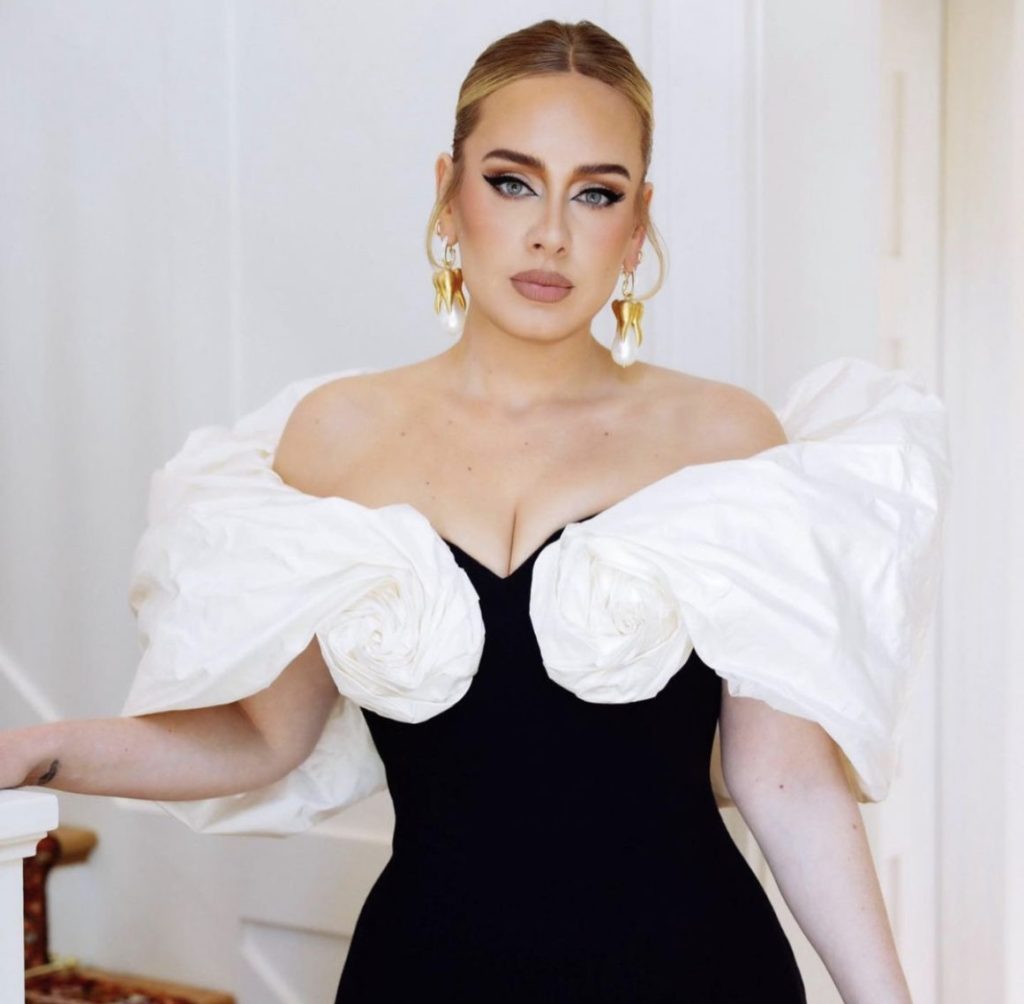 6. Dua Lipa wore a white see-through outfit at Jacquemus's wedding
Although the grooms weren't offended by the look, Dua Lipa was criticized for wearing a sheer white gown that flaunted her bra and underwear. Some considered the dress to be attention-seeking and unseemly for the event. However, Jacquemus was amused that people were so shocked and told Vogue that everything in her ensemble was "airy, vaporous, and light."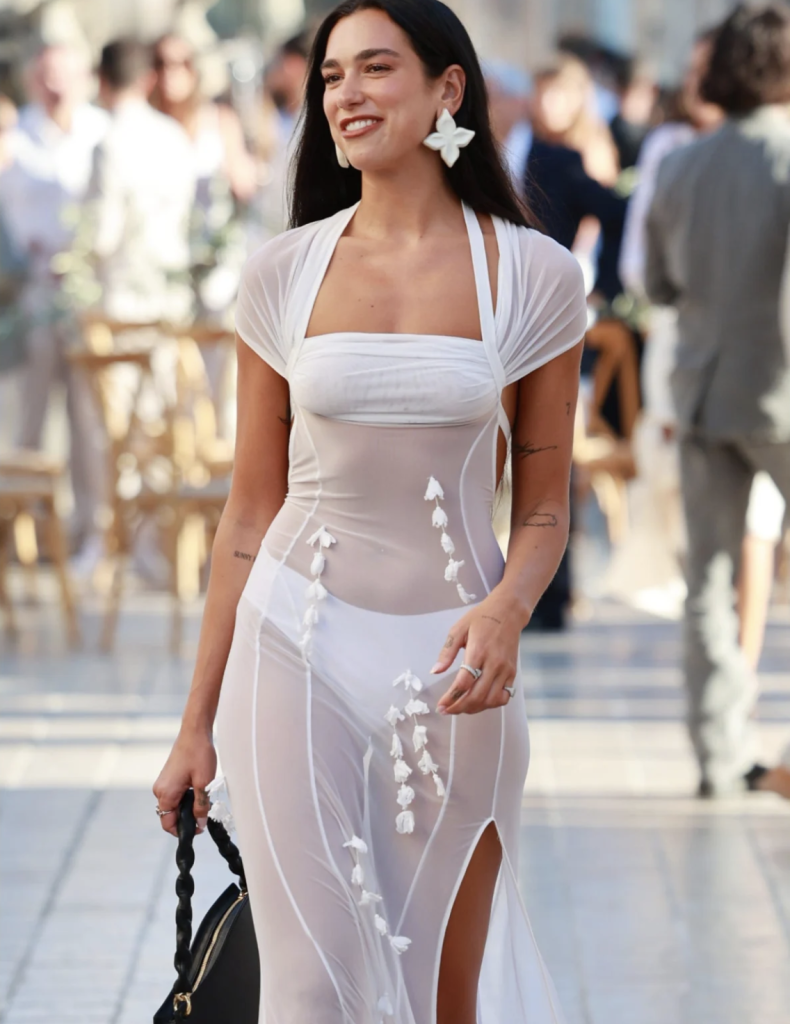 7. Pippa Middleton stole the spotlight on Princess Catherine's big day
It was shocking that Pippa made the decision to wear a skin-tight white dress, especially since she was holding Catherine's train and the whole ordeal was televised. The frock resembled a bridal gown and was extremely fitted to her figure, which took attention away from the bride's silhouette. A heated debate ensued. Was Middleton really trying to outshine her sister? A lot of royal watchers think so. However, Pippa used the excuse that she wanted to "blend in" with the train while holding it. That's ironic since she did anything but blend!
8. Kim Kardashian showed too much skin at Paris Hilton's wedding
The Kardashians have a knack for wearing inappropriate attire, and apparently, they'll even do it at a wedding! Many gasped when Paris's former assistant showed up to her wedding in an extremely tight black gown that showed off her curves. The boob coverage was minimal, to say the least, and the bodice only consisted of two tiny bits of fabric. Some fans didn't think it was classy and not wedding-appropriate. Then again, can you see Kim as a bridesmaid? The woman does love attention.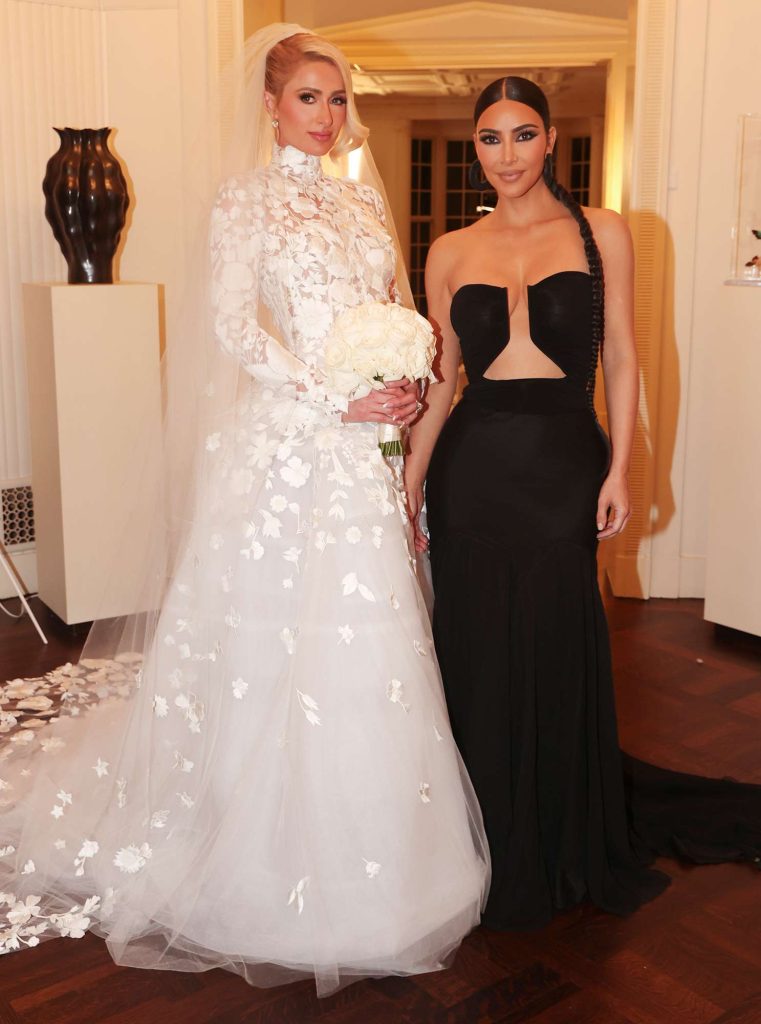 9. Kendall Jenner showed even more skin at her influencer friend's wedding
Kendall managed to one-up the bride when attending the 2021 wedding of Lauren Perez and David Waltzer. While the bride and groom wore classy and chic outfits, Kendall wore a scandalous, criss-crossing LBD with extremely tiny layers over her chest, exposing most of her upper body and midsection. The cut-outs on this dress were truly insane.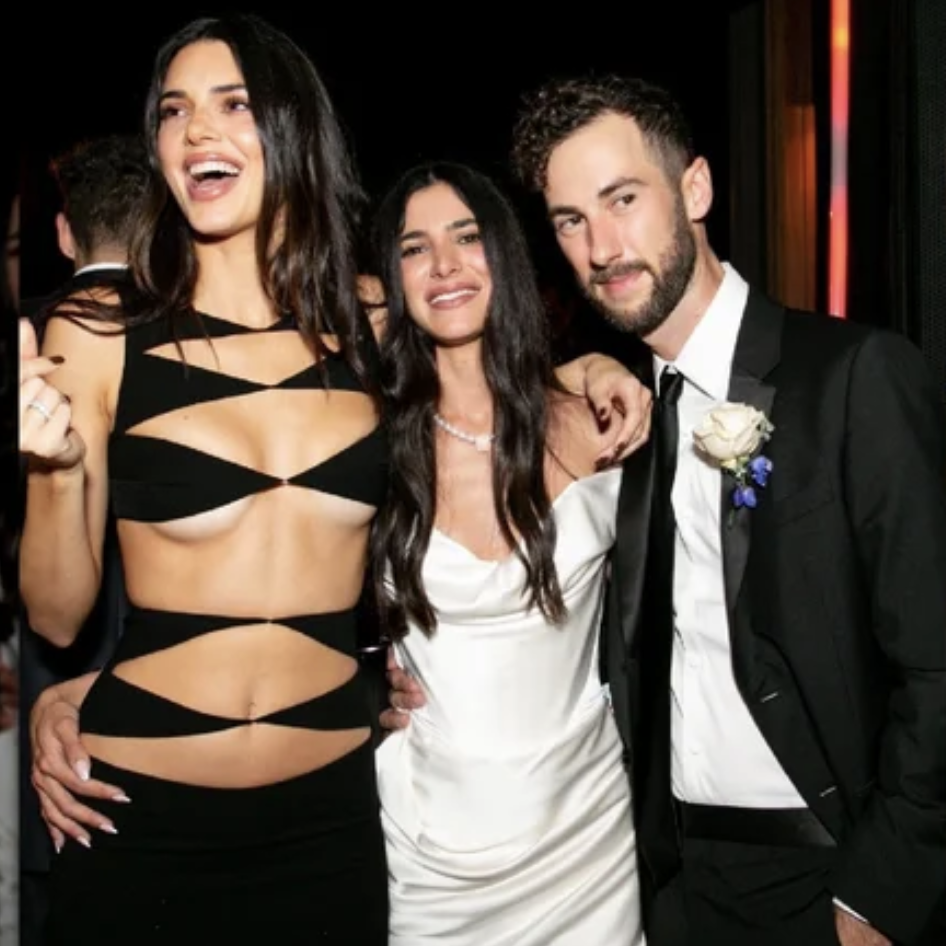 10. Kylie Jenner tried to upstage Hailey Bieber at her wedding
It's hard for the Kardashian-Jenner to give up the spotlight since they've been in it their entire lives. Donning a breathtaking design by the late Virgil Abloh, Kylie attended Hailey and Justin Bieber's wedding with a dress that screamed main character energy. The gold gown featured a dramatic slit and cut-out bodice, showing off skin and sparkling in what many called a "Revenge Dress." However, others defended the reality TV show star and said that since Hailey knows her friend well, she probably assumed that she would show up in an over-the-top outfit.